share Share to Facebook
Pag-IBIG Tranche 160 Bidding Result
August 17, 2021
Posted By: Admin
Congratulations to all winners of Tranche 160 Pag-IBIG Bidding!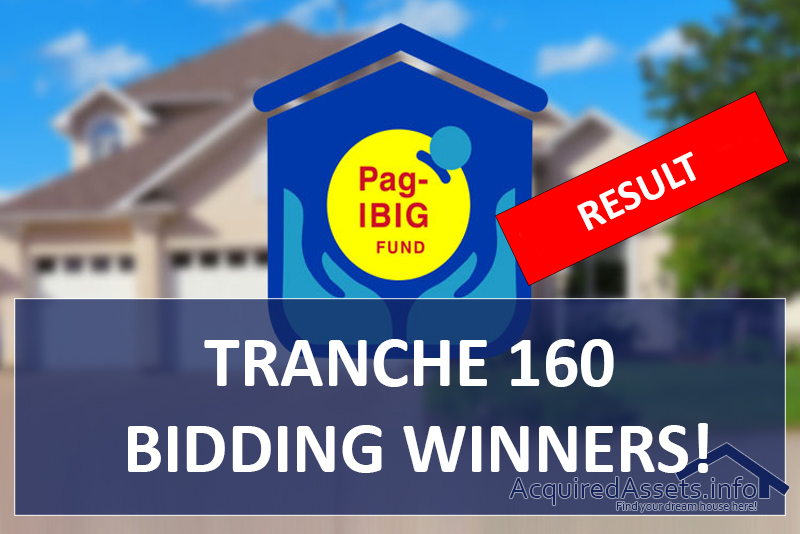 SEALED PUBLIC BIDDING TRANCHE 160 LIST OF HIGHEST BIDDERS
Due to the implementation of ECQ, schedule of payment for the required 5% bid bond is suspended until further notice.
Winner's Names:
AGUILING , JOY ANNE DE GUZMAN
APOLE , MANELO GALGO
ARENAS , RENAJAY AGUILAR
AROJADO , JAMES DORUPAN
ASUCAN , JEROME B
AUSTRIA , ROMEO GARRIDO
AVISO JR., JAIME
AÑANO , MARILY JOY CAGADOC
BALDADO , MACK BOLAN VILORIA
BATALLER , NEILDREN M
BATANG , SOLA U
BEROS , NONIVIE ENFERMO
BOBIS JR, NOEL D
BROCALES , BASILIO PLAZO
BUBAN , LUTCHIE ARIZO
BURAC , WYVYLY SICAT
CABANISAN , ALEXANDRA GARCIA
CABARUAN , ALVIN D
CABAYAO , JAMES PETER PALCONIT
CALORING , RAYMUND BACTOL
CASAMAYOR , ALONA TAPIA
CASIBUA , MARLYN M
CLEMENTE , LOVELY B
COL , ROLDAN B
DIONIO , JEFFREY GRUFA
DISPO , ANA C
EBORA , RONNEL D
ECHALUCE , SHEILA JUAREZ
ELICAY , YZZA XYRANEL D
EMELO , MICHAEL REDIMA
ESPENILLA , DELIA BINALAYAN
ESTROPIA , LADY LEE CORTEZ
FLORES , JEFFREY
FUENTES , MICHAEL JEOFFREY CARDINES
GAMAS , MICHELLE ARAZA
HORQUIA JR, SAMPRIMO LINGUITE
JAMERO , JOSHUA B
JARABELO , JOEY LACDANG
JIMENEZ JR, ROLANDO SARICAL
LANUZA , JULIAN TACPALAN
LAO , JENNIFER G
LATOZA , DENNIS RUBIANES
LHOOPA , INC
MACAPANAS , JOENRI RUBENECIA
MAGBANUA , PRINCE CARLO ICBAN
MANAIG , JOMAR D
MANALAD , ERIC T
MANGANTI , JOHN JERICK B
MENDOZA , JONAS TABON
MORALES , GILBERT D
MORTA , MA. LOURDES S
OMETER , LEGEON GINGCO
ORDIZ , CHRISTIAN RAMIREZ
ORILLOSA , WILLIE RULL
PADRE-E , BEA NICOLE DEDIL
PELICANO , ROMMEL L
PENSOTES , MA. KATRINA
PIGAR , ROSALIE TORIBIO
PIOL , MICHELLE BALUYOT
QUINIA , RALPH
RAGADIO , ROY PERANTE
RAMIRO , IRENE
REALEZA , KRYSTELLE C
RIEGO , ARLET BERNASOL
RULL , NORIEL DELA PAZ
SAN JOAQUIN , IRMA C
SAPUSAO , EDELYN M
SATTO , RONA RITA REOTRO
SEIT , DIOSY LIZ
SERMON JR, JIMMY M
SOLIS , MICHAEL MARTINEZ
SOLON , FE CASTILLO
TACTACAN , ROSANNA CASTRO
TANO , ABEL M
TAPANG , ARRHA MAE PAREJA
TAPIA , MARK ANTHONY FERNANDEZ
TINIO , MERCIDITA C.
TIRADO , RONALYN APOLINARIO
TORINO , JOMER GALANO
VILLAREAL , MARY GRACE JEANETTE SAPILAN
ZETA , EVELINO QUIDLAT
Source: https://www.pagibigfund.gov.ph/document/pdf/acquiredassets/winningbuyers/NCR_Tranche-160_081721_WinBuy.pdf
Note: Names are in public and can be found on above link. You may contact us if you want to remove/unpublish your name above.