share Share to Facebook
Pag-IBIG Tranche 239 Bidding for Properties in Laguna, Batangas, Cavite, Bulacan, Rizal and Metro Manila this June 27, 2022 - July 01, 2022
June 19, 2022
Posted By: Admin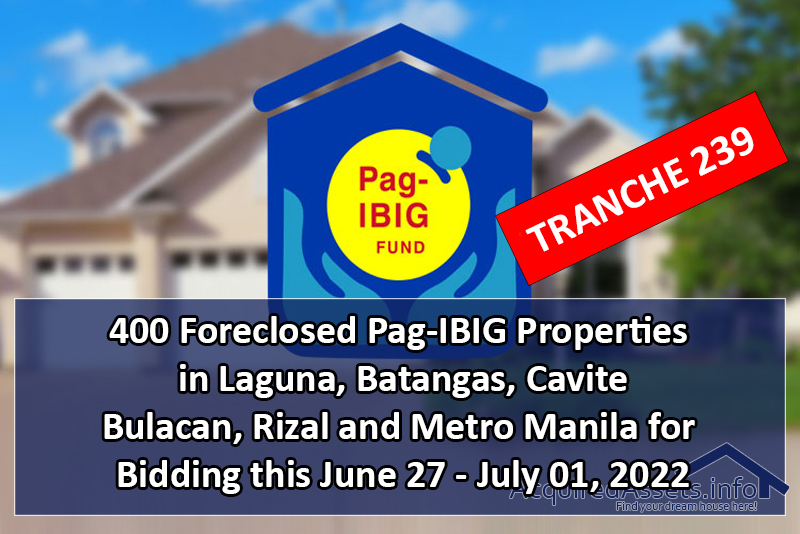 This coming June 27- July 01, 2022, The Pag-IBIG Fund Committee on Disposition of Acquired Assets shall conduct a public auction for the sale of acquired asset properties in Laguna, Batangas, Cavite, Bulacan, Rizal and Metro Manila. A total of 400 foreclosed properties in the said provinces will be in auction.
PERIOD OF ACCEPTANCE OF OFFERS: June 27- July 01, 2022
OPENING OF BID OFFERS: July 06, 2022
Bidders are advised to dropped their Registration form and Bid Offer/s together with a photocopy of their valid Identification (ID) card (with 3 specimen signature) and latest proof of income in the drop boxes of the following designated Pag-IBIG Fund Offices:
DROPBOX LOCATIONS:
BRANCH: Pag-IBIG NCR
ADDRESS: Ground Floor JELP Business Solutions Center, 409 Shaw Boulevard, Brgy. Addition Hills, Mandaluyong City
CONTACT NUMBER: 09692232152
BRANCH: Dasmarinas, Cavite
ADDRESS: Volets Commercial Building, E. Aguinaldo Hi- way, Dasmariñas, Cavite
CONTACT NUMBER: 09569459868
BRANCH: San Pedro MSB
ADDRESS: 3/F Robinsons Galleria South, Km. 31National Higway, Brgy. Nueva, San Pedro, Laguna
Interested parties may contact the Marketing and Sales Department thru Ms. Rhodora D. Atil, Ms. Jonnise Natividad, Mr. Marcelino C. Caliguiran Jr, Mr. Conan G. Acenas, Ms. Jelian Joy Frac, Ms. Kheenee O. Arnejo, Mr. Ron Michael G. Calina, Mr. Roger T. Delmiguez, Ms. Ivy Manigao, Ms. Corazon Quintana, Mr. Jeffrey Cacayuran and Mr. Erris A. Agoncillo at telephone number (02) 8654-9244. You may also email your inquiries for further details at [email protected]
Please click the following link to show all foreclosed Pag-IBIG properties in Laguna, Batangas, Cavite, Bulacan, Rizal and Metro Manila.
https://acquiredassets.info/search?q=SPB_239
Disclaimer: Errors are unintended and do not constitute acts of misrepresentation or withholding of accurate property details and amount; and are subject to change without prior notice.
Source: https://www.pagibigfund.gov.ph/document/pdf/acquiredassets/uploads/publicnodiscount/NCR_T-239-ND_061722.pdf